GoLite Breeze™
Ultra-lightweight, backpacking rucksack.
Weight: 12 oz. (standard) 14 oz. (large)
Dimensions: 78" x 93" x 42" (1 man) 80" x 93" x 45" (2 man)
Material: Spectra™ Nylon
Mfg: GoLite™
Price: $75.00 (small) $85.00 (large)

Related Links
Although (or perhaps because) I own a six pound, 6500 cubic in expedition pack, I have become a big fan of minimalist backpacks (rucksacks).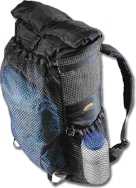 In particular I have come to love my GoLite Breeze which I carried for some 1800 of 2200 odd miles on the Appalachian Trail in the summer of 2002.
The Breeze, and other packs in its class, undo about 60 years in equipment development to produce a compact and fantastically lightweigth backpack (under 1 lbs.)
Light in and of themselves, these packs, with their limited volumes (typically 3000-3500 cubic inches) and non-existant suspension systems, enforce a light load (20-25 lbs.), and as such serve as the natural cornerstone of a minimalist hiking style.
Designed and first used in prototype by Ray Jarndine, the Breeze reflects his cut-the-spoon-in-half philosophy:
It is a simple nylon sack with a drawstring top and lightly padded shoulderstraps. The Breeze has no structure or suspension system, limited external attachment points, and not one extra strap.
The Breeze includes some thoughtful hiker-friendly features including rigid mesh panels on the side (just big enough for standard Nalgenes or 28 oz. Gatorade bottles); as well as a larger mesh panel covering the back for storing, airing and hopefully drying damp gear. GoLight BreezeTM
The Breeze omits a waistbelt although a number of other packs in this class (GoLite's larger Gust and the G4) include this somewhat precatory feature.
So How Does It Work?
There is no such thing as free lunch (except for trail magic) and the Breeze's lack of features, in fact add up to a lack of features:
All of the weight sits on your shoulders;
The pack has no structure or suspension system;
It is not even mildly water resistant;
It isn't easy cutting 15 pounds from your packweight;
Fortunately, all of these apparent short commings are addressed by simple techinques discussed below. Moreover, some of the anticipated shortcomings of the Breeze are in fact the greatest strength of the ultra-light style. Let's start with the question I have been asked most often:
Don't You Miss the Waist Belt?
Without a suspension system (internal or external) a waistbelt alone doesn't actually do much except stablilize your load. This ain't nothing, but unless you intend to do a lot of scrambling in the course of your hikes, it ain't everything either.
As such, all of the weight of an ultra-light pack (even those that do include a waistbelt) sits on your shoulders. That said, a twenty or twenty-five pound load on your shoulders still feels better (and a good deal more natural) than thirty-five to forty pounds no matter how well displaced or balanced, because at the end of the day whether the load is balanced on your hips or your shoulders, the weight is always on your legs.
Although it might take some adjustment after years of hiking elaborate internal frame packs, a shoulder-borne weight is in fact the most natural arrangement for carrying a load. Putting a substantial weight on your hips is actually quite restrictive particularly when yoked to your upper body.
Conversely, putting all the weight on your shoulders allows your hips to move freely and independpently from your upper body. This allows a more natural (near day-hiker like) gait (or as Ray calls it: "a more natural style of ambulation").
I didn't believe -- or at least wasn't particularly sold by -- this feature when I made my decision to go with the Breeze (sounded, a touch ... you know). But over 1800 miles, I genuinely came to appreciate this fact of the ultra-light style more than any other.
Suspension by Ground Pad: The Method
Although the Breeze lacks suspension or stays and therefore structure, the pack is typically stiffened with a closed cell foam or self-inflating pad (although Ray would look askance at my Thermarest-stiffened Breeze).
The Method 1: Rolling the Pad

The ground pad can be "rolled" into the pack. In this arrangment the pad is rolled up into a loose cylinder, insertered into the pack and then expanded to fill out the pack while leaving the center open to accept the rest of the gear.

This method works especially well with moderate to small loads and will, in particular, serve to seriously stablize the pack when otherwise underfilled.

However, expanding a ground pad inside the pack is a learned skill, and not one that everybody gets to be good at (after a hundred repackings, I am a 6).

The Method 2: Folding the Pad

Fortunately, folding the ground pad into a flat retangle works at least as well with moderate to full loads. This arrangement is much easier to jigger, in fact more comfortable and geneally frees up a little more room in the pack.

In fact a number of other packs (the G4) are specifically designed to accomodate this arrangement and include extenal points to attach the folded pad between the shoulder straps so as to sit between your back and the load (they recommend a Z-Rest for this purpose, which is if nothing else stiff).
Combining these methods over the course of week or even weekend long hike works well. Fold the pad to to take the bulky load out of town and roll the pad to stabilize the pack as you hike near empty for the last roadhead at the end.
The Poor Man's Waterproofing
Although silicon-impregnated nylon has made inroads in the past couple of years, very few packs are truly water resistant and require the addition of pack cover.
The Breeze is no different. The Spectra™ nylon is a tough but thirsty fabric and, in fact, quite easy to sweat right through on even a moderately warm day.
Although a light-weight packcover for sustained bad weather is a good idea (GoLite makes one, and Gregory's 3500 in cover is widely available and mates perfectly with most ultra-light packs including the Breeze) simply lining your pack with a plastic trash bag, will protect the contents from light rain and more importantly your own vital fluids (note that a pack cover can't help you with this). Lawn & leaf bags at 35 gallons will fill the bill as will slightly more durable contractor's bags.
Planning a Light Load
You'd be surprised at what you can leave at home, particularly when you only have 3000 cubic inches to fill for 4-5 days. But designing a light load starts with planning what you will take.
This begins with the big three: The Pack, The Shelter and The Sleep System. In the kit of most backpacker the weight these three items alone adds up to (12-15 lbs.) or almost half the typical pack-weight.
With an ultra-light pack (1 lbs.), a tarp or solo tent (2 lbs) and light-weight bag (2 lbs.) an ultra-lighter can shed 7-10 lbs of weight out of the gate. We're talking about the packs, so lets quickly talk about the others.
Lightweight shelters (under 2 lbs)

These include: silicon impregnated tarps, solo bivvies, solo tents as well as bug bivvies, backpacking hammocks and other exotic combinations. In addition couples and hiking partners can also divide up a 4 lbs. weight on a wide range of in fact expansive two-person options.

Silicon and Urathane Coated Tarps are relatively inexpensive and great for folks who like the open-air experience. Out of bug season, they keep you suprisingly well protected from wind and rain, though not so much from the cold.

Recent innovations in tapoleans include no-seeum mesh inserts and 100% DEET.

Single Wall Silicon-impregnated Nylon Tents can serve as a substantial, light-weight shelter for folks who like the privacy and anti-wildlife security of complete envelope in the woods -- though a lack of circulation and related internal condensation is a common problem.

In addition a number of traditional two-wall, 2-man backpacking tents are available in the four pound range and can be easilly divvied up between hiking partners and couples.

One and Two-person Bug Bivvies are fairly inexpensive and light-weight. They are terrific on a dry night at the height of summer, and can be combined with simple tarp for comfortable three-season camping.

Lightweight Sleep Systems (under 2 lbs)

There is no escaping the fact that a truly light-weight (less than 2 lbs.) three season bag (20°) will set you back a pretty penny.

You'd have a hard time finding a three-season synthetic bag that weighed less than two pounds. And light-weight, credibly water resistant, three-season down bags can cost between $150.00 - $450.00 dollars (Western Mountaineering will charge you $300.00 for a nice light bag that cannot even be in the same state as water)

That said, and although it won't address all your light-weight need, most backpackers would benefit from owning a true summer-weight (50-55°) sleeping bag. Typical summer weight bags are slightly heavier than comparably rated art bags (though gererally well under two pounds). They are, however, usually pretty cheap ($40.00- $80.00), with a fast drying synthetic fill and, most important of all, let you actually sleep inside your bag on all but the warmest nights.
Things You Only Think You Need

Okay, we've talked about things you do need. Now here's a brief list of things you only think your need:

A water filter;
A flashlight and a headlamp;
A coffee cup/mug
A chair and/or converter for for your Thermarest
Your 1 3/4" thick Thermarest
A second pair of anything not called: socks
A 1 lbs. white gas stove

And here are some things you might try instead:

Iodine or Chlorine Dioxide
An LED headlamp;
Your dinner bowl or water bottle
A log
A full length closed cell foam (or 3/4" thick self-inlating pad)
What you're wearing
An MSR Superfly and Canister or a 6 oz. Alcohol Burner-stove
[Top ^]