Datasheets

Resources

Long Distance Trails

Canoe & Kayak Trails

Hiker-Biker Trails
Some lovely spots, including the dude - counterdude
wilderness lite ™
safety-margin (
Legal Notice:
routinely demonstrated to be illusory)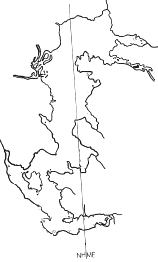 Lake Umbagog
ME/NH
Appalachian Natl Scenic Trail, Springer Mt GA - Mt Katahdin ME: The classic 2200 mile footpath running through 13 states, four major ranges and emcompassing over 500 backcountry shelters and campsites.

Assateague Island Natl Seashore, Assateague MD: The Assagteague Island Natl Seashore includes a twelve mile stretch of Assateague Island's 48 miles of dunes, pines and ponies. The Seashore includes numberous hiker-paddler backcountry campsites nestled along the largely pristine bayside stretch of this windswept barrier island.

Delaware River, Pocono Mts. NJ - PA: The Delaware Water Gap Nat'l Recreation Center preserves 40 miles of the Middle Delaware River as well as 70,000 acres of adjoining shoreline. The park includes numerous primivtive backcountry camp sites on the river's banks and many islands.

New York Long Path, New York, NY - Albany, NY: The perhaps deserved orphan of long-distance backpacking trails (b. 1928), the New York Long Path (LP) stretches from the palisades of the George Washington bridge across 150 varied, and occasionally suburban, miles to the capital at Albany.

Phillips Brook Backcountry Recreation Area, Stark NH: Phillips Brook Backcountry Recreation Area offers more than 75 miles of backcountry trails, as well as the only hut-to-hut system for backcountry skiing east of the Mississippi.

Upper Potomac River, Paw Paw WVa - Hancock MD: The upper Potomac River includes several scenic 1 to 3 day paddles for intermediate canoists and kayakers. Ample primitive hiker/biker sites are available along the route in C&O Canal Natl Historic Site which shadows the Potomac from Cumberland, MD 184.5 miles east to Washington DC

Vermont Long Trail, N. Adams, MA - Beeden VT: The grandaddy of long-distance backpacking trails (b. 1921), the Vermont Long Trail (LT) stretches from the Berkshires on the VT/MA border over 300 miles to southern Canada including some of the most spectacular and remote geography in New England.